MidnightWatcher's Blogspot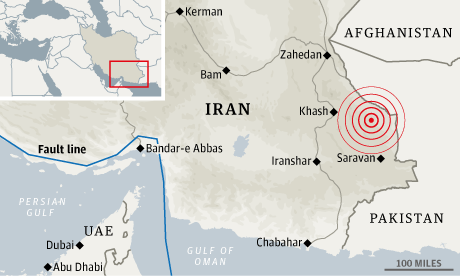 By Jason Burke and Saeed Kamali Dehghan, The Guardian – "A huge earthquake has hit the border regions between Iran and Pakistan, with reports of casualties currently confused.
Communications to the region around the epicentre, in a remote corner of the south-east of Iran, appear to be cut off.
Tremors were felt across the Gulf region, across Pakistan and well into north-west India on Tuesday, when the earthquake struck at 10.44am GMT.
The US Geological Survey said it had measured the earthquake at magnitude 7.8 and gave its location at 50 miles east-south-east of the town of Khash, in Iran. It is the biggest earthquake to strike Iran for 40 years.
Though the area is largely desert and mountains, there are several major cities, including Zahedan, only 125 miles away, which has more than half a million inhabitants.
One Iranian told The Guardian that the small town of Hiduj, which…
View original post 215 more words